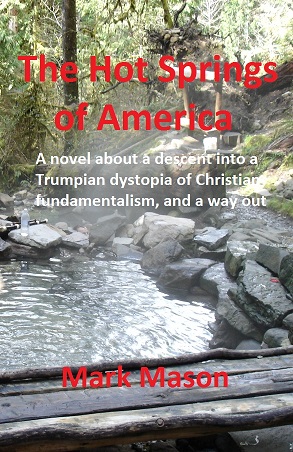 The Hot Springs of America
<!font face="verdana" size=2> paints a picture about what could happen to the USA, and the world, if the separation of church and state were to break down significantly more than it already has. Fundamentalist Christianity has repeatedly signaled how intolerant and punitive it would be if it had the political power to do so. For instance, one influential Republican politician has said being an abortion provider should be a capital offense.
A novel should "explore possibilities for living," and this novel does this by presenting a model for a better future, and by showing how a variety of people work to achieve it and live it in their lives. A vision is presented for a society that is both sustainable for the planet, and sustaining for the people who live on it. It is just one of many possible paths to a happy future for humanity, but it is presented with the hope that it will get people thinking in new ways about the challenges we face.
When asked what he thought of "Western Civilization," Ghandi said he thought it would be a good idea. We certainly need to think about how our western society can become more civilized. The Hot Springs of America is offered to prevoke thought in this area. It is also a good story, with engaging characters and great adventure. I believe you will enjoy reading every one of its 18 chapters and 289 pages! Get a taste of it by reading a whole chapter from it for free at this website:
Read a chapter of this novel for free!



Purchase the complete E-Book for $5.95

<!center> Return to the Home Page of this Site