Buy a Copy of Darcy's World by Mark Mason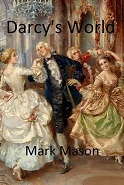 Darcy's World is offered as a pdf ebook. For a limited time I am selling it for just $6.00. The book is formatted into book-size pages that are easy to read on screen using the Acrobat pdf reader that is on most computers, phones and other devices. Just download the ebook file I send you as an email attachment and double click the file to open it. Clickable bookmarks take you to whichever chapter you wish. Pressing Ctrl + L to put the reader into full screen mode will make the book more easily readable. Although the new web browser in Windows 10 can read pdf files, the Acrobat reader does a better job, and is a free download at: Download Acrobat Reader.
Darcy's World ebook, $6.00:
Upon your purchase, PayPal will send me an email about the order, and I will send the book to the email address you gave PayPal.
If you have any questions, please contact me:


Most of the time I will be able to email you your ebook the same day as I get the order. On rare occasions, though, I am away from the internet for a few days, and on those occasions it may be up to a few days before I can get your ebook to you.
---
For the home page of my book, In Search of the Loving God, which includes three complete chapters from the book' click here: In Search of the Loving God

<!hr>